DIGITAL USER EXPERIENCE
Fast track user experience training course
English
Tim Fidgeon
AFLĂ MAI MULT
DIGITAL USER EXPERIENCE
Turbo-boost your digital presence by creating a world-class Digital User Experience.
You'll learn the best practices to help you inform, persuade and convert your audience.

Tim is one of the World's top digital trainers and consultants
He has been helping organisations develop market-leading digital strategies and experiences since the late 90s
His clients have included: BBC, Coca-Cola, Financial Times, Sony, Vodafone
Tim's articles on digital marketing and user experience have been published by: .net magazine, New Media Knowledge, Usability News & Web Standards Group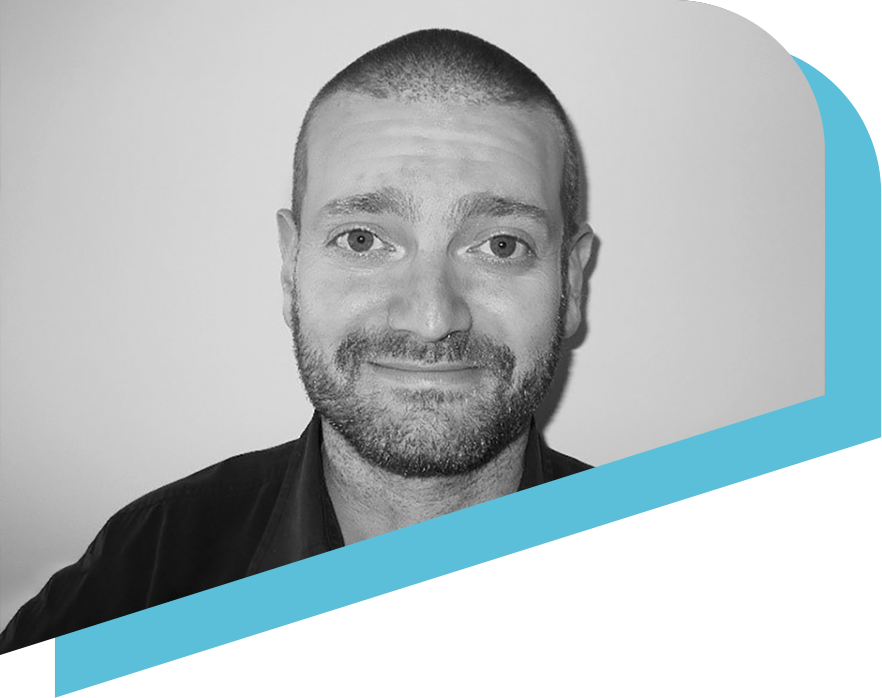 where do you apply what you've learned
Everywhere – much of our time will be talking about how people think, so it transfers to all media

Websites and apps – we will present lots of detailed guidelines for designing specific aspects of websites and apps

The Future – customers are demanding better User Experiences from every aspect of their life
Training structure
An introduction to the jargon of User Experience and how organisations can organise themselves to deliver great experiences.

Best practices to find out what people want and how to improve your User Experience.

A comprehensive discussion of the areas your organisation's User Experience strategy should address.

User Experience (UX) principles

How do people behave online and what are some of the fundamental 'Thinking Tools' to create a great experience?

Design guidelines & patterns

Practical, detailed and evidence-based solutions to common design problems, for example: what should appear on my Homepage?

Techniques to create a message that is more likely to persuade and motivate your audience.


Best practices for writing content that is much more likely to inform and sell.


Mobile experience principles

Essential 'Thinking Tools' to creating a great experience on small and/or touch-screen devices.


Mobile design guidelines & patterns

Detailed guidelines on designing mobile website and apps, for example: how do I design a comparison table for a tiny screen?

We'll look at some of the newest technologies – chatbots, for example – and offer the latest best practices.
Price
The investment in your professional development is
599 Euro + TVA
449 Euro + TVA
Tim Fidgeon
AFLĂ MAI MULT
ce spun cursanții noștri
PREV
"I really enjoyed the training as it was interactive, with interesting examples, down-to-earth explanations and arguments based on research. Well structured, useful examples & information. I appreciated the interactivity and that Tim made connections with our business.  Overall I enjoyed the content and relaxed, humor flavored training atmosphere. Thank you!" - Digital User Experience (UX) training.

Alina Mihaila

Marketing Manager

"Informație de calitate, bine structurată, exemple expresive și utile. Am apreciat energia înaltă a cursului, atmosfera relaxată și simțul umorului al trainerului. Am plecat cu o nouă perspectivă asupra procesului de creare și îmbunătățire al unei mărci și cu idei palpabile pe care le pot aplica imediat la job." - curs The art of creating an international Brand

Alexandru David

Brand Manager

"Great workshop. Great energy. Great info. Great examples. Signature training. I couldn't see this training, or a similar one, presented by anyone better." - Digital User Experience (UX) training

Mihai Comănescu

PPC Manager
NEXT
DESCARCĂ BROȘURA CURSULUI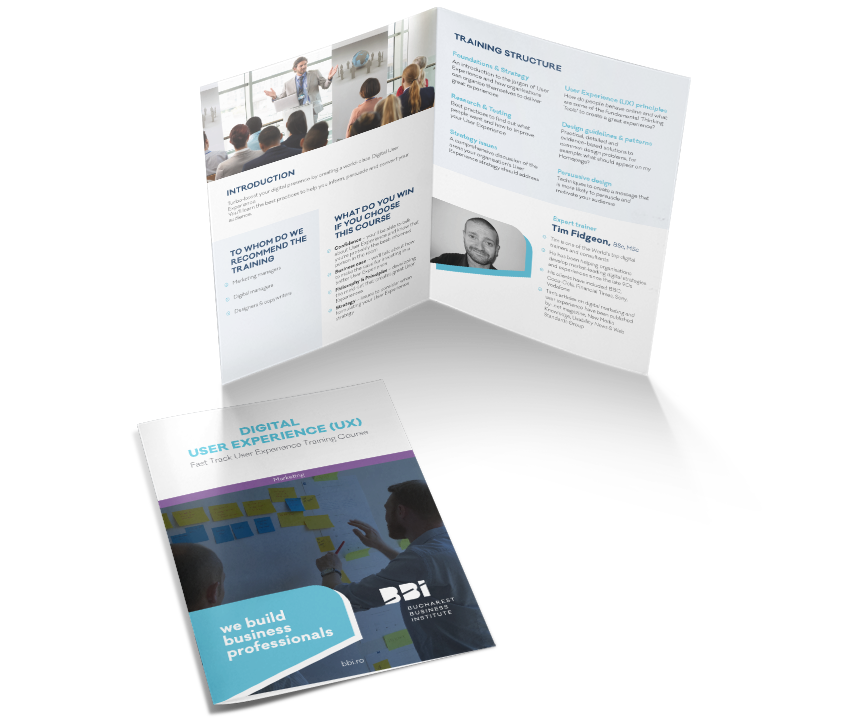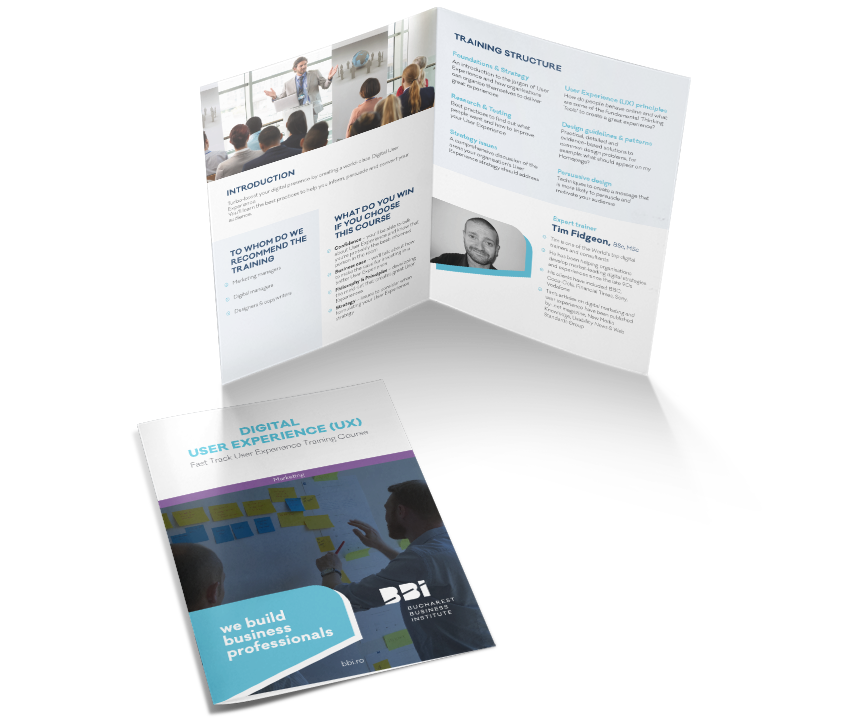 see course's diploma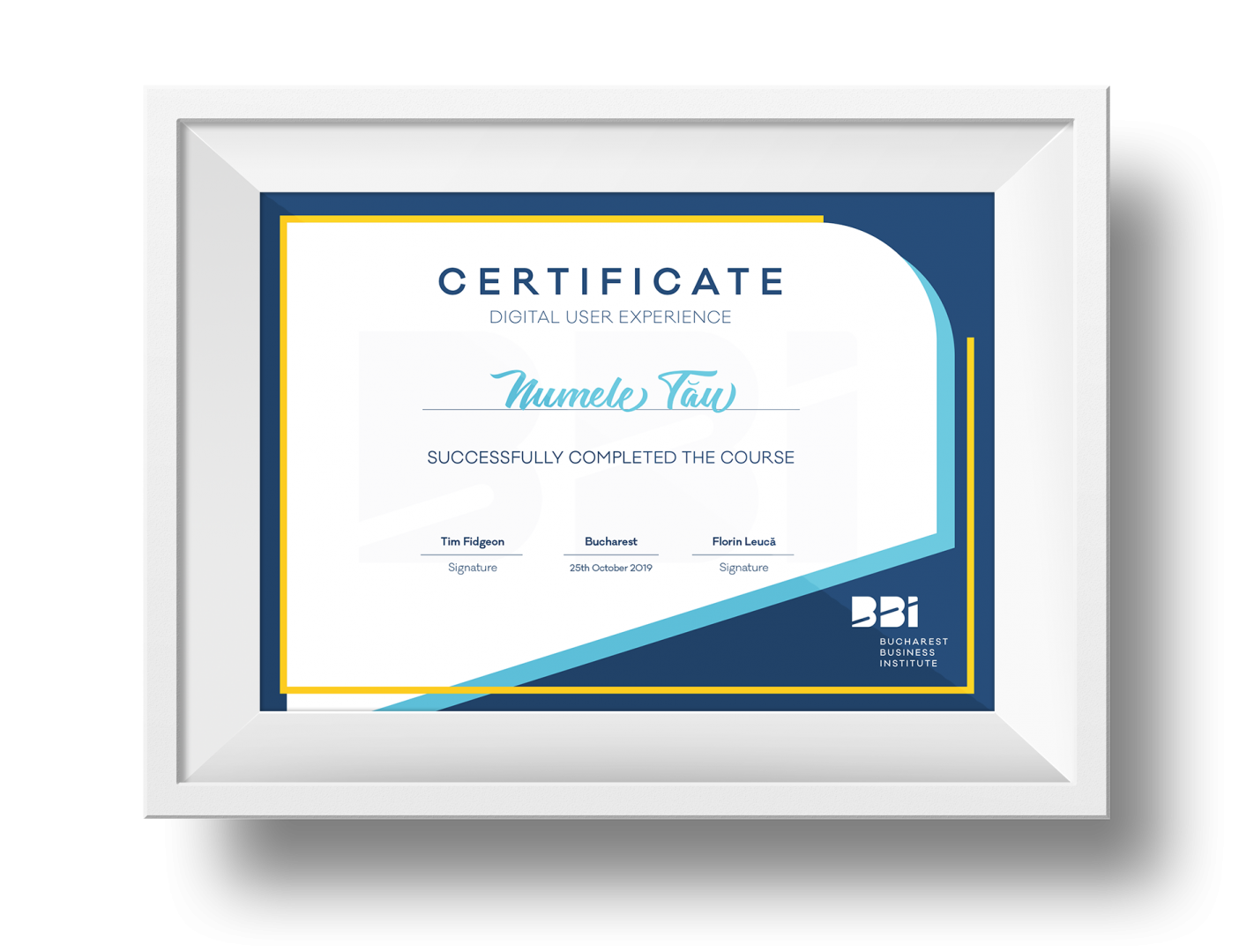 GALERIE CURSURI ANTERIOARE
DESCOPERĂ O EXPERIENȚĂ UNICĂ DE ÎNVĂȚARE
Alege cursurile care te ajută să evoluezi în carieră
Antreprenoriat

Branding

Comunicare

Dezvoltare personală

Leadership

Management

Marketing

Resurse umane

Vânzări
Vezi toate cursurile