TARGET PMI AGILE CERTIFIED PRACTITIONER (PMI-ACP)® CERTIFICATION
Learn to quickly adapt your projects and improve team collaboration
Dezvoltă proiecte și soluții de business inovatoare într-un timp scurt
Română
Mihai Olaru
AFLĂ MAI MULT
Ce este TARGET PMI AGILE CERTIFIED PRACTITIONER (PMI-ACP)® CERTIFICATION?
PMI-ACP® reprezintă o abordare de management al proiectelor cu ajutorul căreia creezi și livrezi produse sau servicii performante într-un timp mai scurt.
Agile simplifică procesele având la bază ideea de schimbare și constă în planificare etapizată, construire din mers și o adaptare constantă la feedback-ul clienților.
TARGET PMI AGILE CERTIFIED PRACTITIONER (PMI-ACP)® CERTIFICATION
Limbă
Curs in limba română
Preț
485 Euro + TVA
AFLĂ MAI MULT
Agile Trainer & Coach, lucrează la PM ACCESS - Global Registered Education Provider al Project Management Institute (PMI) USA și este certificat Scrum Alliance, Scrum.org
Are o experiență bogată în lucrul cu echipe de dezvoltare software din domenii diferite - medical, telecom, airspace & defence, software distribution, e-commerce
Este membru activ al comunității Agile din România și speaker la conferințele de profil
Metoda sa de lucru preferată este Scrum, însă valorifica în egală măsură și metode precum eXtreme Programming, Kanban sau DevOps pentru a atinge mai ușor obiectivele de business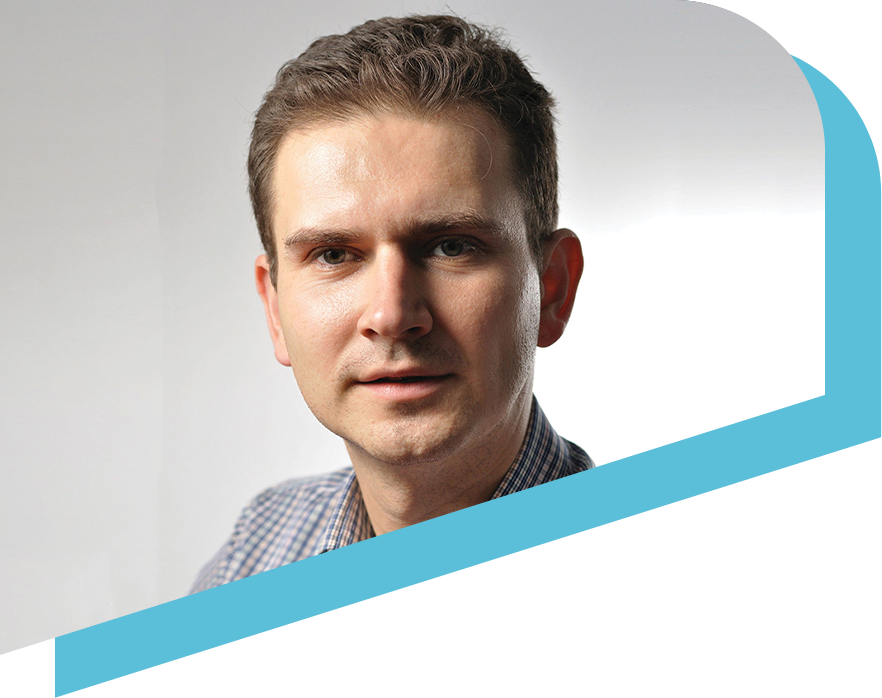 Unde aplici ceea ce ai învățat?
În realizarea de produse sau servicii complexe

În creșterea nivelul de performanță al companiei prin îmbunătățirea proiectelor

În industria IT, pentru care Agile a fost inițial conceput, dar și în alte domenii de business
Structura cursului
Everything about PMI-ACP Certification

◦ PMI-ACP Exam Requirements
◦ Exam Questions
◦ Application – registration process
◦ Exam
◦ Maintaining Certification
◦ Exam-Taking Tips
◦ Learning plan


Agile Principles and Mindset

◦ Agile Manifesto - values and principles
◦ Agile Methodologies - Scrum, Kanban,
◦ DSDM, Lean, Extreme Programming
◦ Agile process overview
◦ Servant Leadership – Agile Leadership practices


◦ Agile contracting and project accounting principles
◦ Agile Risk management
◦ Cumulative flow diagrams (CFDs)
◦ Customer-valued prioritization
◦ Frequent verification and validation
◦ Incremental delivery
◦ Managing with Agile KPIs
◦ Minimum viable product (MVP)
◦ Prioritization schemes
◦ Relative prioritization
◦ ROI/NPV/IRR
◦ Software development practices (CI, Refactoring, TDD)
◦ Task boards / Kanban boards
◦ Work in Progress (WIP) limits


◦ Active Listening
◦ Agile chartering
◦ Brainstorming
◦ Collaboration games
◦ Communication management
◦ Conflict resolution – levels of conflict
◦ Definition of "done"
◦ Emotional intelligence
◦ Facilitation
◦ Knowledge sharing – written communication
◦ Negotiation
◦ Participatory decision models
◦ Personas
◦ Stakeholder management
◦ Wireframes
◦ Workshops


◦ Adaptive leadership
◦ Agile team roles
◦ Building Agile Teams
◦ Burn-down / burn-up charts
◦ Caves and common
◦ Co-location (physical and virtual)
◦ Development mastery models (Dreyfuss-skill acquisition, Shu-Ha-Ri-mastery,
◦ Tuckman- team formation)
◦ Osmotic communication
◦ Tacit knowledge
◦ Team motivation
◦ Team Space
◦ Training, coaching, mentoring
◦ Velocity


◦ Affinity estimating
◦ Agile discovery
◦ Agile sizing and estimating techniques
◦ Daily stand-ups (ground rules, three questions)
◦ Defining and testing acceptance criteria
◦ Estimating initial velocity
◦ Estimating tasks
◦ Fast failure
◦ Ideal time
◦ Iteration planning process
◦ Planning poker and story points
◦ Product roadmap
◦ Progressive elaboration
◦ Relative sizing
◦ Release planning process
◦ Slicing stories
◦ Spikes – Architectural and risk-based spikes
◦ Story maps
◦ User stories
◦ User story backlog – refinement, requirement reviews
◦ Value-based analysis and decomposition


Problem Detection and Resolution

◦ Control limits
◦ Cost of change
◦ Cycle time
◦ Defect rate
◦ Escaped defects
◦ Expected monetary value
◦ Failure and success models
◦ Lead time
◦ Risk-adjusted backlog
◦ Risk burndown graphs
◦ Risk severity
◦ Technical debt
◦ Throughput/productivity
◦ Trend analysis (lagging metrics/leading metrics)
◦ Variance analysis (common cause/special cause)


Continuous Improvement (Product, Process, People)

◦ Agile hybrid models
◦ Feedback methods
◦ Fishbone Analysis
◦ Five Whys
◦ Kaizen
◦ Learning cycle
◦ PMI Code of Ethics and Professional
◦ Conduct
◦ Process analysis and process tailoring
◦ Product feedback loop
◦ Retrospectives
◦ Self-assessment tools and techniques
◦ Systems thinking
◦ Value-stream mapping

AGENDA CURSULUI
Ziua 1

9:00

Sesiune curs

13:00

Pauză de prânz

14:00

Sesiune curs

18:00

Finalul zilei

Ziua 2

9:00

Sesiune curs

13:00

Pauză de prânz

14:00

Sesiune curs

18:00

Finalul zilei

Ziua 3

9:00

Sesiune curs

13:00

Pauză de prânz

14:00

Sesiune curs

18:00

Finalul cursului
PREȚUL CURSULUI
Investiția în dezvoltarea ta profesională va fi de
580 Euro + TVA
485 Euro + TVA
Mihai Olaru
AFLĂ MAI MULT
ce spun cursanții noștri
PREV
"I really enjoyed the training as it was interactive, with interesting examples, down-to-earth explanations and arguments based on research. Well structured, useful examples & information. I appreciated the interactivity and that Tim made connections with our business.  Overall I enjoyed the content and relaxed, humor flavored training atmosphere. Thank you!" - Digital User Experience (UX) training.

Alina Mihaila

Marketing Manager

"Great workshop. Great energy. Great info. Great examples. Signature training. I couldn't see this training, or a similar one, presented by anyone better." - Digital User Experience (UX) training

Mihai Comănescu

PPC Manager

"Informație de calitate, bine structurată, exemple expresive și utile. Am apreciat energia înaltă a cursului, atmosfera relaxată și simțul umorului al trainerului. Am plecat cu o nouă perspectivă asupra procesului de creare și îmbunătățire al unei mărci și cu idei palpabile pe care le pot aplica imediat la job." - curs The art of creating an international Brand

Alexandru David

Brand Manager
NEXT
DESCARCĂ BROȘURA CURSULUI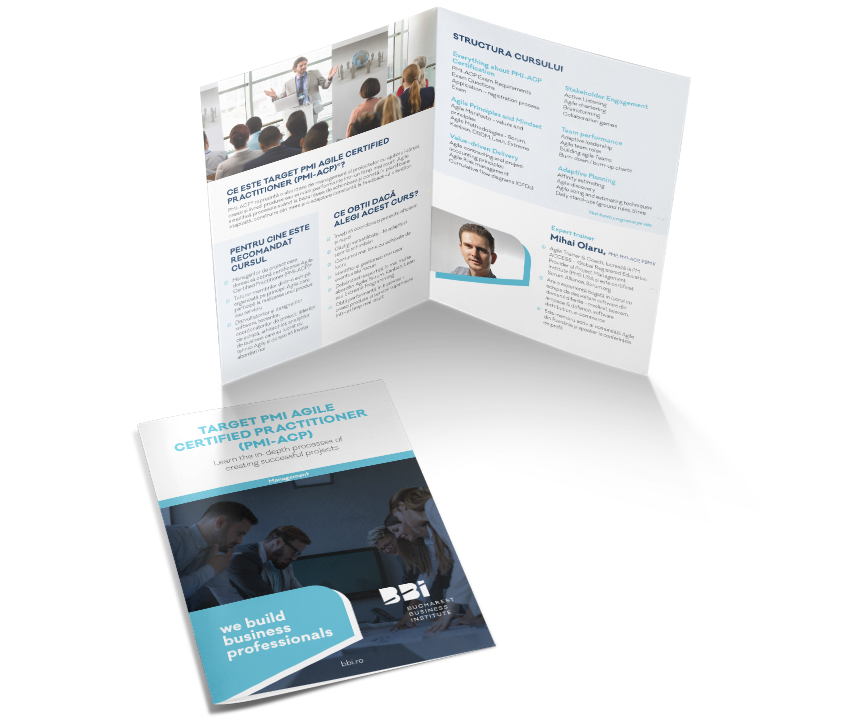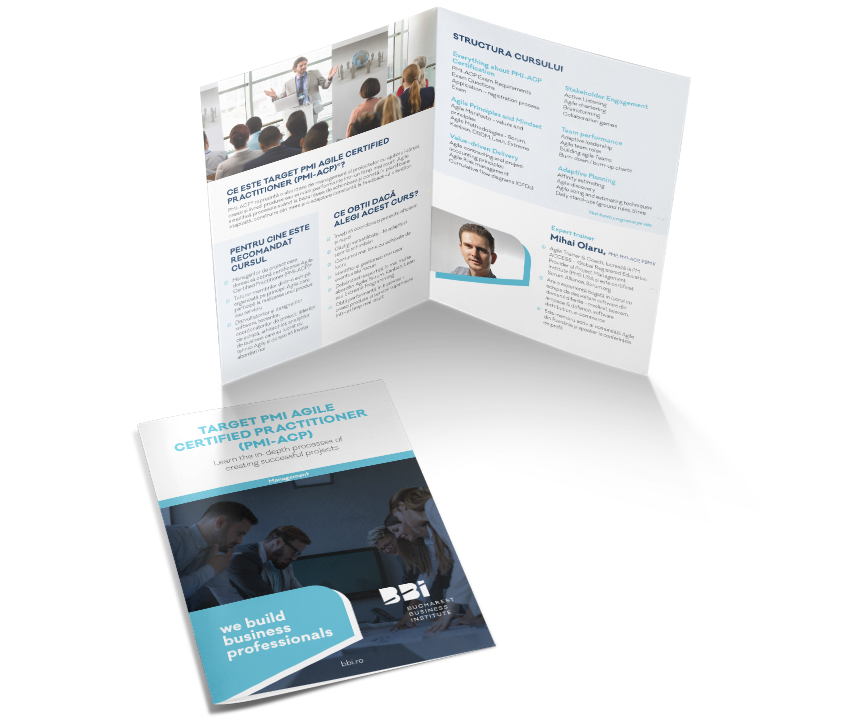 Vezi cum arată diploma
Cursul de Project Management Agile Certified Practitioner (PMI-ACP)® îți permite să obții certificarea Internationala PMI, Inc. USA.
Mai multe detalii despre acestă certificare găsești aici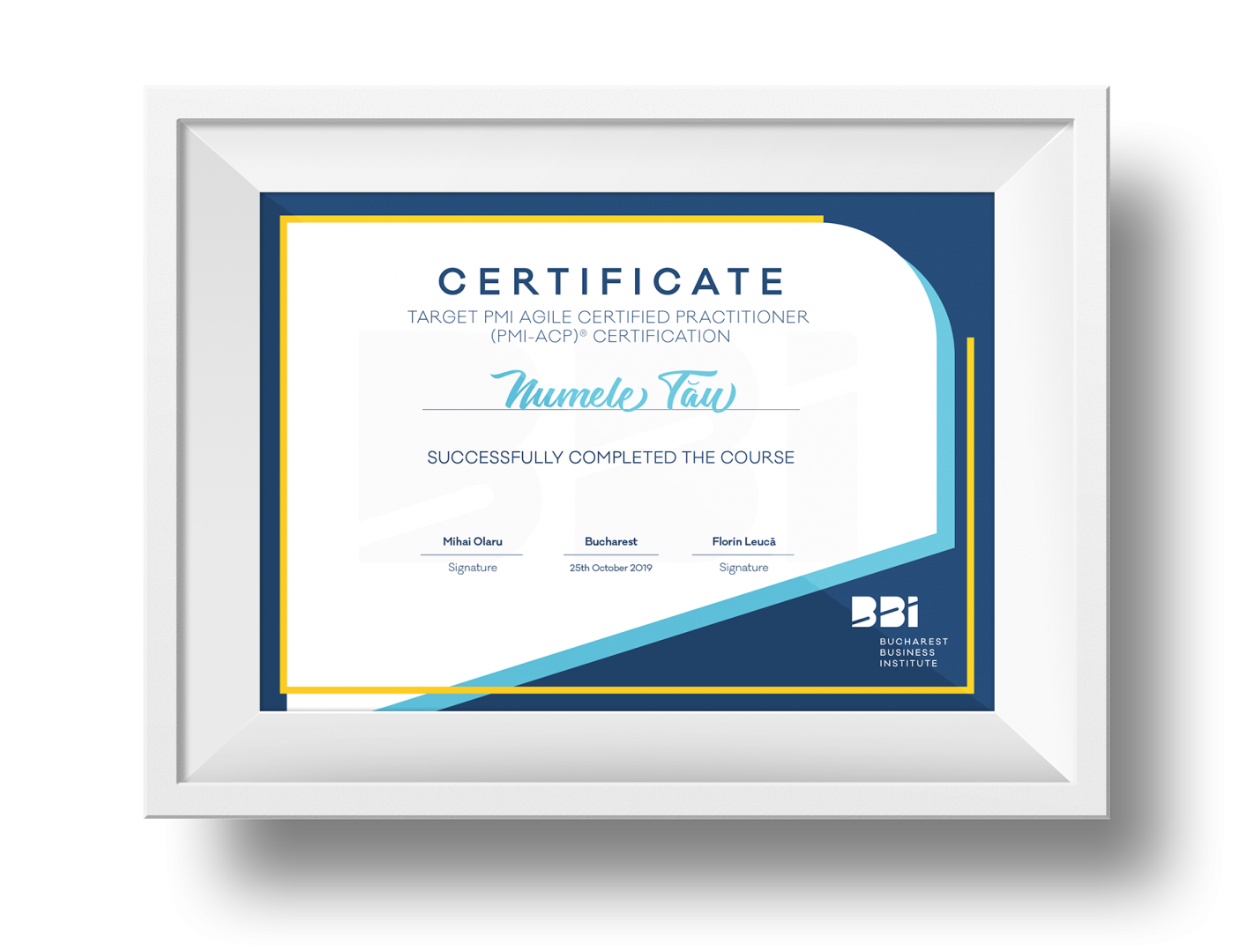 GALERIE CURSURI ANTERIOARE
DESCOPERĂ O EXPERIENȚĂ UNICĂ DE ÎNVĂȚARE
Alege cursurile care te ajută să evoluezi în carieră
Antreprenoriat

Branding

Comunicare

Dezvoltare personală

Leadership

Management

Marketing

Resurse umane

Vânzări
Vezi toate cursurile